Catch Leads & Clients
with YourSearch, your Sedna Search Engine
Can fit in your Facebook page
Complete Charter Information
You would like to put a Search Engine on your website for your clients to find the boats they want.

You need boat availabilities in real-time, with the correct price and detailed extras & options.
YourSearch is a strong and fully customizable Search Engine to fit with your design.
YourSearch Core Features
to optimize your Productivity!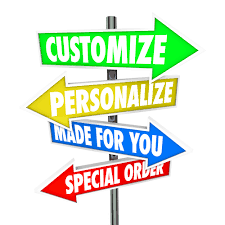 Customization
Customization
As YourSearch is developed with a Responsive Technology, it maintains a beautiful display on multiple screen sizes.
You can customize:
the layout
the colors
the number of criteria
the types of criteria
the display of each criteria
Moreover, YourSearch can be embedded in your Facebook page for you to develop your Leads database.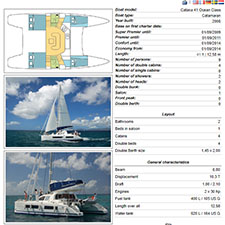 Boat Details
Boat Details
The Boat Details page is available in several languages (clikable flag icons on top) and printable.
It contains a Photos Gallery and extensive boat information about:
Boat Detail
Layout
General Characteritics
Rig
Leisure Comfort Devices
Amenities
Deck Fitting
Electronics & Electric tools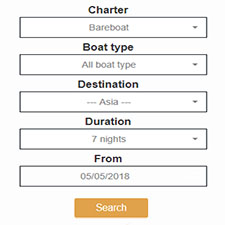 Search Engine
Search Engine
YourSearch is Sedna Search Engine; it means that your clients can get in real-time availabilities & price of:
+5800 boats on +60 destinations
+5000 cabin charters on 21 destinations
All your boats displayed in Sedna
14 languages are available: English, French, Italian, Spanish, Portuguese, German, Swedish, Croatian, Norway, Finland, Netherlands, Slovak, Tche​c​k, Danish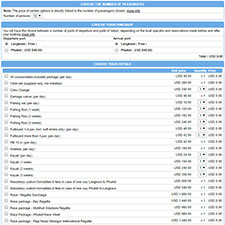 Quotation
Quotation
Your clients can get in real-time a quotation of the charter.
They can modify data to adjust the price, such as:
Number of passengers
Departure & Arrival ports
Extras & Options
They will have payment info, such as:
the mandatory fees
the payment summary
the amount to be paid at base
the summary of the quotation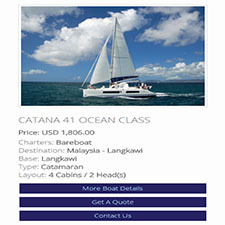 Boat Results
Boat Results
Boat Results can be displayed in Grid or List View.
Each result summarizes the main charter info:
Boat pictures
Charter Type
Destination
Base
Boat Type
Boat model
Boat Layout
Price
There are 3 documents available per result: Boat Details, Quotation, Contact Form. Each one provides real-time data directly from Sedna.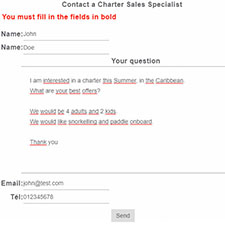 Contact Form
Contact Form
A contact form is available if you need one for your clients to send you a charter inquiry.
If you have already one in a contact page, we can link both forms, meaning that we can send data entered by your clients to your contact form.
We can also hide this button from the boat result.
YourSearch Pricing
For Brokers & Fleet Operators
Opening & Set-Up Support
Custom Design
Up-To-Date Data
Usage Statistics
YourSearch is included in the Full Broker Pack! If you want an optimal business organization, subscribe to the Full Broker Pack. You will be able to manage everything within a same plateform and you will get powerful marketing tools included as well! More info >
Optimize your sales process with Sedna Proposal! Coupled with YourSearch, you will save time and efficiency, managing all your requests in a pro-active way! More info >
Be Ready to Enjoy!
Get the Best out of your Business!