Go to the Top Level
with our Full Broker Pack
New Dashboard with User-Friendly Design
Full Charter Business Management
All Broker tools included
Access to +200 fleets, +5800 boats
Both Broker/Fleet & Broker/Direct Client Management
Tracking & Stats Data included
For an optimal business organization, manage all your daily activities within a same plateform,
with access to real-time data of +200 fleets , +5800 boats, powerful sales, accounting, administrative & marketing tools included.
The Full Broker Pack is 100% adapted to your charter business.
Full Broker Pack Core Features
to optimize your Productivity!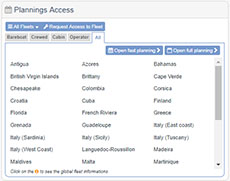 Fleet Plannings
Fleet Plannings
This module enables you to:
Manage Planning Requests
Sort plannings by Charter type or Fleet
Open fast or full planning
Get fleet Info & Base Info
All plannings display data in real-time so that you can manage your charter inquiries with confidence and efficiency.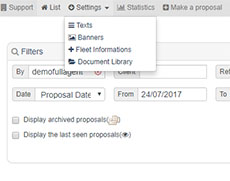 Sedna Proposal
Sedna Proposal
Manage all your quotations with Sedna Proposal which is:
fully customizable in several languages,
with clever settings to create templates anf fill in emails automatically,
with extensive edition tool for you to save much time,
with email tracking & Stats to follow your sales.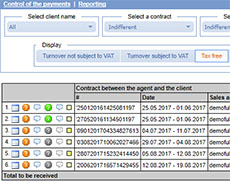 Accounting
Accounting
The Accounting section enables you to manage your relation between your agency & your client and your relation between your agency & your fleet operators.
It includes:
Payment Reminders
Payment Control
Financial Reporting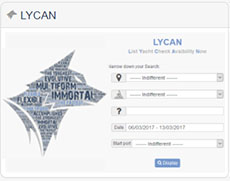 LYCAN & Special Offers
LYCAN & Special Offers
We offer 3 Search Engines:
LYCAN – List Yacht Search Availability Now – built with accurate criteria & filters, for you to check yacht availabilities of all fleets in the same time,
A Search Engine dedicated to cabin charter,
The "Special Offers" that displays specific fleet offers, mainly for One-Way charters.
Option / Booking Module
Option / Booking Module
This module is dedicated to broker/fleet interactions regarding recent charter files.
It has a real success with Sedna brokers because its intuitive ergonomics enables you to manage with just few clicks all your current options & bookings at each stage of sale.
A Search History is also available for you to easily find the files you recently searched for.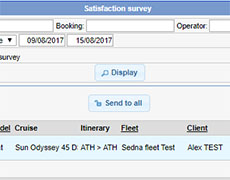 Marketing & CRM
Marketing & CRM
Marketing & CRM tools are available such as:
Client Data Base
Satisfaction Survey
Special Offers
Newsletter
Moreover, in each product back-office, usage stats are provided.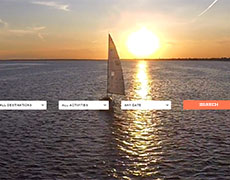 YourSearch
YourSearch
You need to display a Search Engine in your website? YourSearch is at your disposal:
Responsive Search Engine
Accurate Search Criteria
All boats managed in Sedna
Boat availabilities displayed in real-time
Dynamic quotations with prices, extras, discounts managed in real-time
"Special offers" tool to display your own offers
Customizable to match with your site design
Can fit in your Facebook page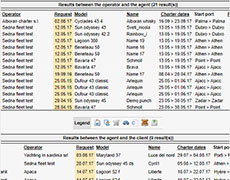 Booking Management
Booking Management
Very powerful and well-thought, this tool supports both Broker/fleet and broker/client interactions using the action buttons provided at each step of sale.
It enables to see at a glance the status of your sales so to know at once what has been done and what has to be done.
It includes a complete Client file with all charter documents (such as Crew List, Skipper Resume).
Full Broker Pack Pricing
Depending on our Clients Status
Yearly Subscription
Unlimited Users
Opening & Set-Up
All Features
Full Support
Customization Requests! As you know, Sedna is "à la carte" which means that we are flexible and willing to always match our products with your specific needs at additional customization fees.
Subscribing to Full Broker pack gives you access to Sedna App with an unbeatable price. To know more: click here.
Be Ready to Enjoy!
Get the Best out of your Business!